Housing for older people - best practice, guides and resources
The need for an integrated approach
There is increasing recognition of the importance of housing and neighbourhoods to the health and wellbeing of older people, and the need for integrated approaches across housing, health and social care to deliver better outcomes.
Supporting both commissioners and providers
Here at IPC, we have developed guidance and good practice briefings to support strategic and operational work in this field, particularly around extra care housing. We have supported both commissioners and providers to understand their current services better and to evaluate how well they deliver outcomes for older people locally. We've helped them to plan for the future, including redesigning services.
Planning, designing and delivering housing that older people want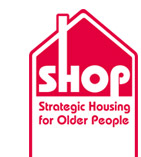 IPC produced a guide to Strategic Housing for Older People (SHOP) for the Housing LIN which provides a framework and tools for councils, public and private sector developers and providers to develop their strategic approach to housing for older people and take the initiative in designing and building homes that older people want.
Examples of our work