Services for adults and older people
Design, development and efficiency through best practice
At IPC, we help our clients to design and develop services and manage demand. We review services, procedures and individual cases against best practice and research to address gaps in practice and to help you to implement new ways of working.
We have developed a performance management approach to managing demand in adult social care. To help councils deliver outcomes and better manage demand, we have developed a model for measuring service delivery that identifies six critical steps, a range of strategic objectives as well as suggested performance indicators and targets. Read the executive summary of our report Six Steps to Managing Demand in Adult Social Care - a performance management approach.

Housing for older people
There is increasing recognition of the importance of housing and neighbourhoods to the health and wellbeing of older people, and the need for integrated approaches across housing, health and social care to deliver better outcomes. We have developed guidance and good practice briefings to support strategic and operational work in this field, particularly around extra care housing. We have supported both commissioners and providers to understand their current services better and to evaluate how well they deliver outcomes for older people locally.
Planning, designing and delivering housing that older people want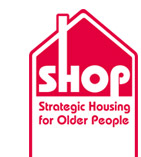 IPC produced a guide to Strategic Housing for Older People (SHOP) for the Housing LIN which provides a framework and tools for councils, public and private sector developers and providers to develop their strategic approach to housing for older people and take the initiative in designing and building homes that older people want.
Examples of our work
A self-funder toolkit to help local authorities in England comply with the requirements of the Care Actand shape their local care markets to meet the needs of the whole population
Work with the senior executive team of a partnership of three local authorities and co-terminus CCG to rescope their integration priorities
Development of an Information, Advice and Guidance toolkit to help local authorities implement and embed the Care Act
An independent review into the externalisation of home care in Powys and support to implement a revised commissioning strategy
A state of the nation report, Extra Care Housing in Wales, for Housing LIN Cymru to provide an up-to-date picture of the current supply, challenges and issues for future provision of extra care housing in Wales
Research and recommendations for the Guinness Partnership about what changes needed to be made across all their services to become a dementia friendly organisation

A study of the local area economic impact of retirement living developments for McCarthy and Stone
A range of briefing papers for the Housing LIN including Active Ageing and the Built Environment considering good practice in how to link the built environment to the important priority of active ageing